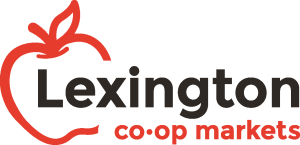 Lexington Co-op Markets is the largest food co-op in Buffalo, NY. We were founded in 1971 by a dedicated group who were looking for access to fresh and bulk foods. Today we have grown to two stores and are 20,000 owners strong!
Here at Lexington Co-op, our focus is local, seasonal and organic. We proudly stock more than 2,000 products from 154 local vendors and return 58 cents of every dollar back to our local economy.
Lexi's Kitchen is our prepared foods and bakehouse. Our talented cooks and bakers stock our shelves with salads, soups, sandwiches, and our famous cherry pie. We use quality organic ingredients in many of our prepared foods and source local whenever possible.
Lexington Co-op opened our second store in 2017 on Hertel Ave. in North Buffalo, a neighborhood that is the perfect blend of action packed and laid back. You can find our neighbors bustling for a night out at the many restaurants on the street or grabbing a hot cup of soup and relaxing in our café. The Hertel store boasts large meat and cheese departments that feature custom cuts, international selections and the friendliest customer service in town.