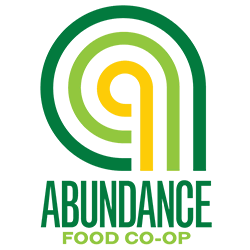 Open to the public 7 days a week, Abundance Food Co-op is Rochester, New York's only community-owned natural grocery store.
Abundance product selection promotes healthy and sustainable food practices with a wide variety of grocery items including many vegan and gluten free options, bulk goods, fresh organic produce, housewares, health and nutritional supplements, natural body care products, books and gifts, and an eat-in fresh organic deli.
Also known as the Genesee Co-op Natural Foodstore, Abundance traces its roots to 1968, when a group called the Genesee Co-op was formed as a center for countercultural activity in Rochester. Through the years the Genesee Co-op branched out into several divisions, including the original food store which started in 1970. Early co-op activities included organizing anti-war protests, draft counseling and drug counseling. Later programs included a pottery studio, a community darkroom, an alternative health center, Vocations for Social Change which ran Communiversity (a free university) and promoted alternative careers, the Regular Restaurant (with a vegetarian menu), and the Good Company (a dry goods store).
Abundance continues in the footsteps of its founders to serve the community of Rochester.