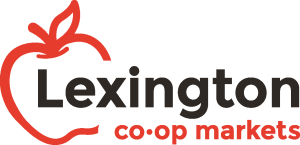 Lexington Co-op Markets is the largest food co-op in Buffalo, NY. We were founded in 1971 by a dedicated group who were looking for access to fresh and bulk foods. Today we have grown to two stores and are 20,000 owners strong!
Here at Lexington Co-op, our focus is local, seasonal and organic. We proudly stock more than 2,000 products from 154 local vendors and return 58 cents of every dollar back to our local economy.
Lexi's Kitchen is our prepared foods and bakehouse. Our talented cooks and bakers stock our shelves with salads, soups, sandwiches, and our famous cherry pie. We use quality organic ingredients in many of our prepared foods and source local whenever possible.
In 2005, Lexington Co-op moved off Lexington Ave. (our namesake) and found a home in the Elmwood Village. This vibrant Buffalo neighborhood serves as the perfect surrounding for our fresh produce department, expansive local beer selection and an outdoor patio that puts you right in the middle of the action.