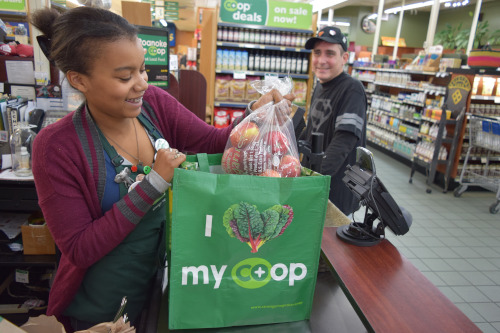 National Co+op Grocers (NCG) is a business services cooperative for retail food co-ops located throughout the United States. We represent 160 food co-ops operating over 230 stores in 39 states with combined annual sales of $2.5 billion and serving over 1.3 million consumer-owners. NCG provides the capacity of a chain while maintaining the autonomy of each individual co-op. We help unify retail food co-ops in order to optimize operational and marketing resources, strengthen purchasing power, and ultimately offer more value to food co-op owners and shoppers everywhere. Learn more about participating in NCG.
NCG serves as a unified voice to further our shared values through advocacy on issues that are important to food co-op owners, shoppers and communities. Read about our progress on these important goals in our 2022 Food Co-op Impact Report.
Mission (our Ends)
NCG exists to maximize members' success, inclusivity, and impact, and to grow the cooperative grocery sector in size and scope in an environmentally regenerative manner.
DEI Vision
We are a learning organization on a continuous journey to build a positive and inclusive culture that values a diversity of ideas, perspectives and identities. We foster an environment where everyone is treated with dignity and respect, where we are inspired by our work and proud of our contributions.