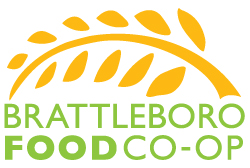 The Brattleboro Food Co-op was formed in 1975 as a small buying club. Today, the Co-op is a 14,580 square foot natural foods market and deli on the ground floor of a four-story building that also includes Co-op offices, a commissary kitchen, a cooking classroom, and 24 apartments. This beautiful downtown anchor building is a result of a collaboration with the Windham and Windsor Housing Trust and Housing Vermont, with many environmentally friendly features, including utilizing refrigeration waste heat to heat apartments and the store, solar panels on the roof, and many more. The current store opened for business in June of 2012.
The Co-op is community-owned, with over 8,000 active shareholders, and our goal is to be as accessible and responsive to you as possible. We strive to provide you with quality foods at reasonable prices, in a relaxed and friendly environment. Our staff is knowledgeable and eager to help shoppers in any way that they can. We are located in southeastern Vermont, just over the Massachusetts and New Hampshire borders. Our community offers beautiful Vermont countryside, a lively cultural scene, and easy access to skiing, hiking and other outdoor activities.
The Brattleboro Food Co-op places a strong emphasis on supporting local producers. We are fortunate to have the opportunity to develop personal relationships with local farmers and businesses, and we enjoy introducing their products to our customers. Our "Producer of the Month" program highlights local growers and vendors in an effort to strengthen our local economy and promote the value of buying locally. Through charitable giving, Co-op sponsored events, classes, and programs, we strive to build relationships within our community. We offer nutrition classes in our local school systems and recently launched a "Healthy Snack Program" which provides a way for teachers to introduce nutritious snacks into their classrooms.