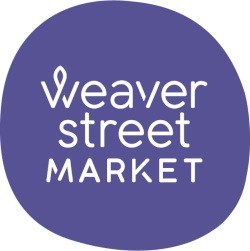 We're dreamers at Weaver Street Market. We dream of an economically vibrant, environmentally sustainable, cooperative community center where our owners can buy healthy food, gather for fun, and find rewarding employment. This vision informs all of our decisions, from where we buy and what we sell, to how we can support other organizations in our community.
Our financial success allows us to partner with community organizations to foster educational and fun events like the Piedmont Farm Tour with the Carolina Farm Stewardship Association, Fourth of July and Halloween with the Town of Carrboro, and Totally Local Dinners with Slow Food, USA.
Our park-like front lawn has become a terrific place for local non-profit groups to raise funds through a variety of events. Groups grill picnic food for sale at our infamous After Hours music event, or create their own special events with local talent. One very successful event was a line-up of local bands that volunteered their talents to raise money for Safe Passage, an organization working with orphaned children in Guatemala. Another very popular event is our Animal Adoption Day attended by many local adoption and rescue agencies.
Twice a year for the last two years, we've held Wine Shows that have attracted over five hundred people who tasted wine in commemorative fundraising wine glasses. The proceeds from the sale of the glasses have gone to support the Women's Birth & Wellness Center, our local cooperative radio station, WCOM. Our Katrina Fund. Proceeds from this fall's Wine Show are slated to go to our Cooperative Community Fund (CCF). We view our CCF as a long-term way to positively impact our community.
We love where we live and it shows in the care we take to foster our community roots through sharing our resources and our vision.
Panzanella Restaurant
Carr Mill
200 North Greensboro Street
Carrboro, North Carolina 27510
919-929-6626
Lunch - Mon-Sat 11:30am-2pm
Dinner - Sun & Tue-Thu 5:30pm-9pm., Fri-Sat 5:30pm-10pm
​Brunch - Sun 10:30am-2pm