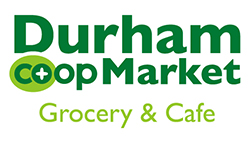 Durham Co-op Market is a new neighborhood cooperative grocery working to open a store located near the downtown area of Durham, NC. The Mission of Durham Co-op Market is:
To serve the central Durham community.
To sell high quality food and other products with special emphasis on locally grown and produced goods.
To practice sustainability in our business by using resources wisely, and by promoting goods produced in a sustainable manner.
To foster a workplace based on respect, dignity, and fair compensation.