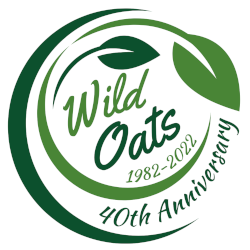 Wild Oats has been Northern Berkshire County's cooperatively owned source of local, organic and sustainable food choices since 1982. We're open 8 am to 8 pm every day, and all shoppers are welcome.
Our team works together to set a higher standard for fresh and healthful food choices, advocacy for local farmers and artisans, personalized customer service, environmental stewardship and accountability to our member-owners, as well as creating a fun, safe and supportive place for our customers and fellow staff members. We call that #thecoopdifference!
Come choose from over 1,000 locally made items, including organic produce, artisan cheese, meat, dairy products, craft beer, honey and maple syrup, coffee, granola, wellness items and much more. Plus, freshly made foods from our kitchen and bakery and lots of vegan, gluten-free and fair trade options, too!
Whether you live nearby or you're just visiting one of the major museums, colleges or beautiful nearby scenic attractions for the day, we've got something for every taste and alternatives for every budget. Find us online at www.wildoats.coop or check out the latest photos of what's new by following us on Facebook, Instagram and Twitter.