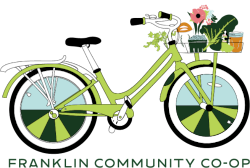 Green Fields Market is a natural foods supermarket owned by Franklin Community Cooperative. Formed as a buying club in 1976, the co-op has grown to become an anchor store in our downtown, offering our community a wide variety of goods and services.
We are proud of our "from scratch" bakery and deli with its busy full service counter and grab-and-go cases. The Pioneer Valley also has many small food producers and farmers, and on our shelves you will find an enticing selection of locally grown and produced products. 
Green Fields Market plays an active role in the community. We have been a consistently strong voice in town planning, working for pedestrian-friendly streetscapes, alternative transportation, and education on food issues. We use our large meeting room for workshops, staff education and to cater events. We are known and appreciated as a gathering place for many occasions!
We have been at our Main Street location since 1993 and we've seen many changes in Greenfield. What hasn't changed is our continual effort to foster the sustainable development of our community and the co-op's mission:  to meet our members' needs by providing quality goods that promote health and help build a sustainable local economy.