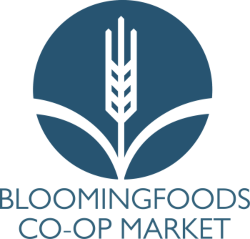 Bloomingfoods was founded in 1976 and began in a vacant two-story limestone garage that was originally built as a carriage house. We are a member-owned co-op market providing Bloomington and South Central Indiana with local, fair, and healthful products, produced with care for the land, animals, and future generations. We provide robust and sustainable food at fair prices for producers and our owner-members.
We outgrew the original building and now have two stores: a 7000 square foot store on the East side of town (Bloomingfoods East) and our neighborhood grocery just west of the Bloomington courthouse square (Bloomingfoods Near West).
Our grocery stores offer natural, local and organic fare, local dairy products (including vat-pasteurized milk and raw cheese), quality meats and seafood, specialty foods from around the world, Fair Trade coffee, tea, chocolate, snacks, and gifts. We have in-store and outdoor seating, with a prepared foods department offering catering and special-order service. Our stores feature self-service cafes with hot bars, salad bars and fresh prepared food to take back home.
Bloomingfoods has long been committed to supporting local farmers. For many years we have hosted a small farmers market in the parking lot of our East store.
We are very actively involved with other local businesses and social service and arts organizations. Throughout our history, Bloomingfoods has always been able to bloom and grow in new directions, laying the groundwork for an even more prosperous, sustainable, and community-connected future.
In 2016 we introduced our Positive Change register roundup program as a community-driven fundraising campaign that offers shoppers the opportunity to round up their purchase to the nearest dollar, or donate more if they wish. In these first six years we have already collected well over $600,000 that has been donated monthly to local organizations.
Everyone is welcome at Bloomingfoods. You do not need to be an owner-member to shop in our stores. We strive to provide excellent customer service to all of our customers. We look forward to your visit!