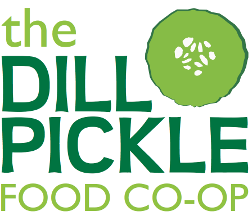 The Dill Pickle Food Co-op offers healthy food choices and the benefits of cooperative practice to build a vibrant local community and more sustainable world. The Dill Pickle Food Co-op opened in December of 2009 after four and a half years of planning, on member-owner funding alone. It was, and is currently, the only retail food co-op in the city of Chicago.
The need for organic and local food outlets on Chicago's northwest side and the DPFC's location in the fast-developing, progressive Logan Square neighborhood led to immediate success; the co-op did $1.3 million in sales the first full fiscal year. The co-op opened with 500 member-owners; currently, the co-op has approximately 1,600 member-owners, which comprise just over half of sales.
In 2012, the board of directors voted to search for a new location of 6,000-12,000 square feet, allowing the DPFC to not only expand selection and services to the community at a more competitive price, but create much-needed educational and meeting space as well. September 16, 2015 the Dill Pickle signed a lease on a 10,000 sq ft space for a relocation expansion project. Forecasted sales for year 1 are $6.5M.