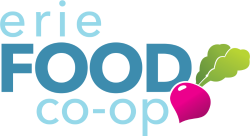 The Erie Food Co-op is a full-service community-owned market. We are a cooperative business, which means we are owned and democratically controlled by our investors. The co-op got its start in 1978 when the Minority Health Education Delivery System (MHEDS), a social service agency in Erie, PA, obtained funds to start a co-op with paid employees. Known as the Food Basket, its purpose was to serve the Hispanic community in the area by providing bulk foods at affordable prices. At the same time, a natural foods market was operating in the area called Rainbow Foods.
By 1980, Rainbow Foods and The Food Basket merged and the co-op became self-supporting. Within one year, natural foods became the focus, the co-op achieved sustainability and it was incorporated as the Whole Foods Cooperative. Over the years we have quadrupled our space with expansions and relocations in order to serve the community. In 2021, we changed our name to Erie Food Co-op to better reflect our mission and identity.
We currently focus our product line on organic and natural brands and also support local producers whenever possible while giving preference to the needs of our community through affordable choices. These values are carried out in all our store departments. Enjoy a meal from our deli service counter in our seating area, or pick up something to go. We also offer organic, conventional and local produce and frozen natural and organic meats. You'll also find a wide variety of groceries, frozen food, bulk items, coffee, herbs and supplements and foods for special diets.
We are proud of our knowledgeable staff, which can assist you with your regular purchases as well as special inquiries. We look forward to your visit.