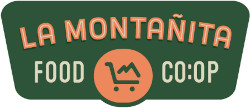 La Montañita Co-op, formed in 1976, is a community-owned grocery store and a regional food distribution center focused on the shared benefits of healthy food, sound environmental practices, and a strong local economy. With six locations in Albuquerque, Santa Fe, and Gallup, we provide over 13,000 member/owners and thousands of community members the widest selection of local food available in Central New Mexico.
We care about good food, that's why we go above and beyond to help support and promote our local producers. In addition to purchasing products in every department of our grocery stores from New Mexico farmers, ranchers, and chefs, we also help these producers get their goods to other co-ops in New Mexico through our Cooperative Distribution Center). Our La Montañita Fund provides member-financed loans to small-scale food producers and other co-ops with flexible terms and low interest rates.
Because we can't grow it all in New Mexico, we do our best to responsibly source all the products we offer, including a wide selection of organic, fair trade, and GMO free items throughout our stores. We strive to make good information available about the products we carry and the way we do business. Find co-op resources, member information, recipes, literature, and a monthly newsletter chock full of good information at our website.
We value and encourage member participation in the community, because we recognize that good food and a strong local economy is a group effort. Through our member participation program over 150 co-op members give their time to 60 community-based non-profit organizations throughout the year. Their hours of service help these organizations do their good work, but it also translates to discounts for the members who do the work. In other words, through our member participation program, we make food more affordable and build capacity in our community.
An economic alternative for a sustainable future, La Montañita Co-op is fresh, fair, local.