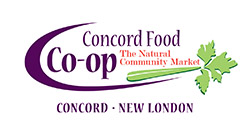 The Concord Food Co-op is a natural foods grocery store and cafe serving the greater Concord, New Hampshire area. Our mission is to provide our community natural, organic, and environmentally responsible products at reasonable prices, in a personable and responsive shopping environment.
We support our area's economy by buying locally and regionally produced goods and strive to promote the value of consumer control through the cooperative system. In addition, the co-op is a resource for information on health and nutrition, as well as the social and economic issues surrounding food.
Inside the co-op, customers can find a wide variety of products, including: organic and locally-grown produce, naturally-raised and organic meat and poultry, convenience foods without fillers or preservatives, handcrafted fresh breads, over 400 products available in bulk, earth-friendly cleaning and paper products, vitamins, supplements, and products designed to fit the needs of special diets.