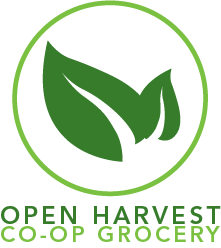 Open Harvest Cooperative Grocery started life as a buying club in 1971 and opened as a small storefront in 1975. In 1990 we moved to a much larger store and in 2009 have just completed a major expansion, almost doubling our size.
Our mission is "Good Health Through Good Nutrition" and we take supporting local farmers and being an integral part of the community in Lincoln, Nebraska very seriously. We currently have 3,200 active members and anyone is welcome to shop.
We are a full line store with an in-house deli and bakery, fresh meat and seafood and lots of bulk items including flours, cereals, nuts, beans, grains, herbs and spices. We have gorgeous organic produce, an extensive supplement and body care section, a great selection of domestic, imported and local cheeses, lots of quick meal options, and of course a wide range of groceries and frozen products. We also specialize in foods for special dietary needs including our own rice bread baked fresh twice a week.