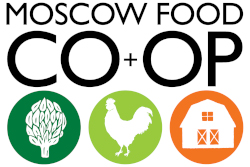 Founded in 1973 Moscow Food Coop has been selling natural foods to the Palouse for over 40 years. In 2005, we relocated to the heart of downtown Moscow deepening our commitment to keeping the downtown core vibrant and healthy. Since our relocation sales have increased over 50% and our community loves their new store!
Our produce department is almost all organic and has strong ties to local producers; we actively solicit and encourage their growth in our community. Our grocery department has an extensive selection of the necessities, as well as rare ethnic ingredients, a variety of bulk items and local offerings. We label all of our local and Non-GMO Project verified products with shelf tags.
Our wellness department offers a wide variety of organic supplements, homeopathic treatments and natural body care items. We also have a significant mercantile section, with Fair Trade and local gifts for every foodie, locavore and eco-conscious person in your life!
Most recently we added a natural meat department that focuses on locally produced meats as well as cooperatively grown and marketed clean meats. Our meat department makes many "signature" items ready for our customers to take home and cook, providing a welcome addition to any meal.
Our kitchen and bakery are our pride and joy! While we have been baking whole grain breads and pastries for over 15 years and making our own deli entrees, soups and salads (from scratch and fresh daily) for over 10 years, we recently added a salad bar, an espresso bar and a sandwich station, which have become the focus of the lunch time trade. With our Meatless Mondays and Gluten-Free Wednesdays, everyone loves to eat at our deli!
During the summer months we hold the Tuesday Growers Market in our parking lot featuring local and organic produce, fruits and flowers, all from within 50 miles of the store. Also used as a CSA drop off, this event has grown into a weekly party complete with live local music and great food BBQ'd to order. Our market accepts SNAP Benefits, making it a great destination for everyone in the community.
Our outreach efforts-including Mamas+Papas, Co-op Kids, the Good Food Book Club and the Food For Thought Film Series- have become staples in our community, and our Dime in Time and Community Contributions initiatives allow us to give back. Community News, our monthly newsletter, serves as a connection between Co-op and community, and allows us to feature all of these great programs and events.
The Moscow Food Co-op opens daily at 7:30 am making it easy to grab breakfast on the way to work or school, and closes nightly at 9:00 pm. We're located on Hwy 95, Northbound and between 5th and 6th streets; look for the large, yellow sign that says "CO-OP"-it's pretty hard to miss!