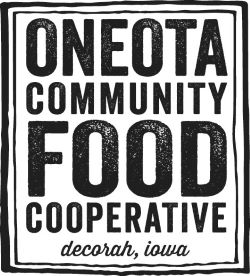 In 1972, a small group of people in northeast Iowa formed the Oneota Food Buying Club. They began a series of five-hour round trip drives to Minneapolis, Minn. and Iowa City, Iowa to purchase food in bulk. In 1974, the group officially formed the Oneota Community Food Co-op and moved to its first store front.
Over the decades, Oneota Co-op has grown to become a fully-stocked grocery with more than 5,000 member-owners. It is a rural food cooperative located in the northeast Iowa "central hub" community of Decorah, population 7,747 (2021 census). The Co-op collaborates with many local and regional individuals and organizations, including: Iowa Food Hub, Iowa State University Extension and Outreach, Luther College, Northeast Iowa Food and Farm Coalition, Northeast Iowa Food and Fitness Initiative, Decorah Farmers Market, Decorah Community Food Pantry, Sustainable Iowa Land Trust (SILT) and the Decorah Area Chamber of Commerce. These organizations have helped the Co-op further its mission: "to build vibrant communities and ecosystems by providing organic, locally produced and bulk foods, as well as other products and services that are sustainable for those who consume and produce them."
Oneota Co-op occupied four different locations before moving to its fifth and current address at 312 W. Water Street in 2008. Its spacious storefront, previously the home of a Fareway grocery store, has provided the Co-op with room for bulk foods, a wide variety of local and/or organic produce, an expanded cheese and meat area, packaged and frozen foods, beer and wine options, nutritional supplements and gifts and body care products. The Co-op features hot made-to-order sandwiches and an expansive Deli grab-n-go case. A sizable dining area looks out on Water Street and serves as a community gathering space. Water Street Park, an outdoor, city-owned urban park, borders the Co-op's west side.
Oneota Co-op's adjoining buildings to the east hold administrative offices and the Oneota Co-op Kitchen Classroom. The latter is available for community use and outreach initiatives. In 2020 Progressive Grocer named Oneota Co-op an "Outstanding Single Store," noting that "Judging by shopper surveys indicating that consumers increasingly want more personalized services and higher-quality foods, independents such as OCC are well positioned to compete with big chains and online grocery alternatives in today's competitive retail environment."