Image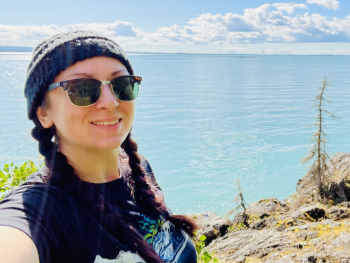 Saint Paul, MN – NCG is pleased to announce that Amber Quesenberry, General Manager of Co-op Market and Deli (Fairbanks, AK), has been named the recipient of the 2023 Bill Gessner Coaching Award. The award provides monetary support for a food co-op general manager to access coaching services in order to achieve identified goals and outcomes and enhance their professional abilities.
"Amber is relatively new to the co-op system and her role and already exhibits many of the characteristics we look for in the next generation of co-op leaders," said Neha Patel, member of the award committee. "She models a service-oriented approach for her team and has been working actively to adapt and augment the skills learned during her years in hotel and retail management. This award will help Amber continue to access coaching services on financial management in order to meet the co-op's goals and overcome unique logistical challenges that come from the co-op's location outside of the U.S. mainland."
The award was announced accepted in absentia at the Consumer Cooperative Management Association conference in June.
About NCG
National Co+op Grocers (NCG), founded in 1999, is a business services cooperative for retail food co-ops located throughout the United States. NCG helps unify food co-ops in order to optimize operational and marketing resources, strengthen purchasing power, and ultimately offer more value to natural food co-op owners and shoppers everywhere. Our 158 member co-ops operate nearly 230 storefronts in 39 states with combined annual sales of $2.5 billion. NCG is a winner of the dotCoop Global Awards for Cooperative Excellence and a Certified B Corp. Find a map of NCG member co-ops. To learn more about co-ops, visit grocery.coop.
# # #
Media inquiries may be directed to Eric Davis (edavis@curiousplot.agency, 612-424-7545).